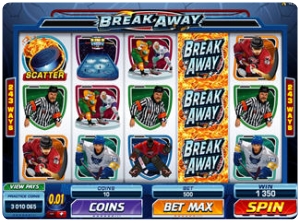 There are lots of sports-themed slots games on the market these days – reflecting the popularity of both sports and online casino gambling, and also the growing links between the two. The Break Away game is a non-progressive slots game with five reels and 243 pay lines and is themed around ice hockey – one of the most popular sports, particularly in America. However, with so many sports slot games competing for the attentions of fans, a game like Break Away really needs to deliver on the ice hockey theme if it is to stand out.
One of the first things anyone playing Break Away at an online casino will notice is the reel icons, all of which are of classic ice hockey symbols, including a stadium rink, a player and a referee. This makes it feel like an ice hockey game right from the start, and this is combined with both sound and visual effects – very sophisticated and impressive ones – to create a really spectacular and immersive experience for ice hockey enthusiasts. Furthermore, the reel which has a fiery ice hockey puck has significance beyond just looking good.
The appearance of this symbol on your reel (it can be either the second, third or fifth reel) will trigger the free spins feature of Break Away, that can lead to anything up to twenty five free spins – potentially multiplying your payout. Like most slots games Break Away is also very cheap to play, as you can bet with coins as low as $0.01, meaning it is a game which should not be beyond the financial reach of anyone – and which can be enjoyed over an extended period without worrying about your bank balance! There is no bonus game, but when you factor in a maximum cash jackpot of $500, there is plenty to recommend giving Break Away a spin – whether you like ice hockey or not.